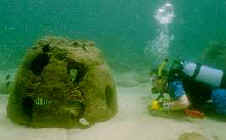 A Reef Ball is a Designed Artificial Reef used to restore ailing coral reefs and to create new fishing and scuba diving sites. Reef Balls are the only artificial reef that can be floated and towed behind any size boat! Reef Balls are made of a special, marine friendly, concrete and are designed to mimic natural reef systems. They are used around the world to create habitats for fish and other marine and freshwater species. Reef Balls are made in many sizes to best match the natural reef type which is being mimicked. The most common sizes are named:
Reef or Ultra Ball
6'X4', 4000 pounds
1.8mX1.2m, 1814 kg
Pallet Ball
4'X3', 1750 pounds
1.2mX.9m, 794kg
Bay Ball
3'X2', 400 pounds
.9mX.6m, 181kg
Lo Pro Ball
2'x1', 75 pounds
.6mX.3m, 34 kg
Oyster Ball
18"X1', 35 pounds
.5mX.3m, 16 kg
"Model" Ball
7"x5", 6 pounds
.2mX.1m, 3 kg
Reef Balls are by far the most used designed artificial reefs in the world due to numerous special features which make them ideally suited to create aquatic habitats.
Reef Balls can be made with mold systems from the Reef Ball Development Group, Ltd.
What's a Reef Ball?
Why Build Reefs?
What's involved?
Floating Deployment
Unique Hole Sizing
Surface Textures
Stability
Marine Friendly Concrete