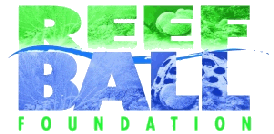 For Non-Reef Ball Foundation Funding Sources Click Here
For Reef Ball Projects with Coral Propagation & Planting Click Here
Finding funding for your project is always a challenge. Before you start anywhere else, the first place is to look at your local community resources. Few funders will provide assistance unless there is a strong community matching component. Even if your community does not have strong financial resources, components like volunteer labor, donations of boat use, scuba tank and equipment rentals, hotel space for trainers and volunteers and even meals for volunteers can all help. Find places in your community to build your reefs...perhaps donated space in a local concrete yard. And speaking of concrete....maybe that same concrete company has some left over waste concrete on rainy days or when someone ordered a bit more than they needed? Plan your project using our step by step guide and have a well written project proposal before you approach potential funders. Your next step will be to apply for our matching grant program.
Qualifying for a matching grant is simple and easy. Just send us a request on the letterhead of the applying organization. The requirements are:
The project must be for public benefit
A monitoring plan must be in place to include a minimum of two underwater digital photographings of your Reef Balls per year for a minimum of three years
Proof of access to an artificial reef permit is required
A publicity plan should be in place
Qualifying grantees may purchase unlimited sizes or numbers of molds from us at our cost (40% off retail) but the molds obtained in this program will be restricted for use for your project or other qualifying grant projects only.
A training manual is provided with molds, but if recommended on site training is elected the grantee's will enjoy a 1/3 discount on training fees from our trainers & if salaried foundation trainers are used there will be no training fees charged. :
There are no matching discounts for shipping charges, tools, admixtures or other accessories.
Grantee must show enough detail for us to reasonably assume the project can be accomplished.
Reef Balls under this program cannot be used for erosion control projects under this grant unless a VERY significant public gain can be demonstrated.
If you elect to purchase finished Reef Balls, you are entitled to 10% off retail pricing from authorized contractors
Other requirements may include:
Additional RBF Funding
We offer various special deals based on our funding levels and what we can reasonably offer to support worthy projects. Don't be afraid to tell us what you need so we can do our best to help! To aid our clients further, we have developed a project / sponsor matching database. This will help potential sponsors to find your project for funding.
This is a semi- automated website to allows us to track and present these projects. In order for your project to be listed send us an
email
detailing exactly what your project is, what you are looking for funding wise, possible time frames, status of permits, etc. The more information you can give us the better a chance you will have of attracting funding. Along with your email, please send several representative photos as an attachment (at a minimum your project or organization logo). When we get the email, we will organize the wording and photos in our new funding database. It will be your responsibility to notify us of any changes in project status.
Non Reef Ball Foundation Funding Sources For Artificial Reef Projects
NOAA
The NOAA Coral Reef Conservation Program announces the availability of funding for General Coral Reef Conservation Grants (GCRCGP) for FY08. Applications must be submitted by midnight, November 1, 2007. This program provides $15,000- $50,000 federal funding for 12-18 month projects to institutions of higher education, non-profit organizations, commercial organizations, Freely Associated State government agencies, and local and Indian tribal governments to support coral reef conservation projects in the United States, US territories and commonwealths, and the US Freely Associated States. Projects funded through the GCRCGP must support on-the ground efforts that: (1) help preserve, sustain and restore the condition of coral reef ecosystems,
(2) promote the wise management and sustainable use of coral reef resources, (3) increase public knowledge and awareness of coral reef ecosystems and issues regarding their conservation and (4) develop sound October 30, 2017ef ecosystems and the threats to su October 30, 2017 assessment of coral reefs or reef resources; (b) Socio-economic assessments and resource valuation; (c) Marine protected areas and associated management activities; (d) Coral reef fisheries management and enforcement; (e) Coral reef restoration; (f) Public education and
outreach activities; and (g) Local action strategy projects. Research activities are eligible only if they directly contribute to improved
management and demonstrate effective and prompt mechanisms to disseminate information to resource managers.

The full funding announcement and federal forms can be found at grants.gov. Applications should be submitted via www.grants.gov and must be received by grants.gov no later than 11:59 PM EST on November 1, 2007. If grants.gov cannot be reasonably used, applications can be sent by mail, but they must postmarked by November 1, 2007, and they must include original signed copies of the federal forms. Send to: Andrew Bruckner, NOAA Coral Reef Conservation Program, NOAA Fisheries, Office of Habitat Conservation (F/HC), 1315 East West Highway, Silver Spring, MD 20910. ATTN: CRCGP Project Applications.

Note: This program tends to be done every year so if you missed this deadline consider them next year.

PADI
The Project AWARE Foundation, established in 1992, is the dive industry's leading non-profit organization committed to conserving the underwater environments through education, advocacy and action. Grant program funding is made possible by direct contributions from divers and water enthusiasts and operates on a quarterly funding cycle.

Project AWARE Foundation provides grants to a variety of nonprofit organizations, institutions and individuals involved in activities directly related to the conservation of underwater environments - both marine and freshwater.
See PADI Grant Program Guidelines
Florida Department of Environment
The FWC artificial reef program administers grants-in-aid pass through funding derived from U.S. Fish and Wildlife Service Federal Aid in Sport Fish Restoration Program and state salt water fishing license revenues. The money is used to reimburse local government and nonprofit participants for funding transportation and deployment of reef material, construction of modular reef units, reef monitoring, pre-deployment site assessments, and special projects, such as planning (socio-economic studies) and research. Depending on the year approximately 70-80% of the grant project funding goes to artificial reef construction with the remainder utilized for monitoring, research, or other reef planning oriented projects.
The selection process for construction and monitoring projects is competitive.
Sea Grant Programs
Every coastal state has Sea Grant programs. Typically research oriented, they occasionally fund artificial reef projects especially when research related.
Google search for Sea Grant programs in your state.
Mote Marine Laboratory is proud to announce a Request for Proposals
(RFP) for the Protect Our Reefs License Plate grant funding for 2008..
Approximately $450,000 will be available from 2007 license plate
receipts for use in 2008. Elibible organizations shall be based in
Florida and engaged in reef research, education and/or conservation.
Proposal are due; December 14, 2007.
For more information about previous awards and to download the RFP
and further information go to:
http://www.mote.org/4reef

Dave Vaughan, PhD.
Director, Center for Coral Reef Research
Executive Director, Mote Tropical Research Lab
Summerland Key, Florida